BRODI ASHTON - EVERNEATH 1 - EVERNEATH
Last spring, Nikki Beckett vanished, sucked into an underworld known as the Everneath. Now she's returned—to her old life, her family, her boyfriend—before she's banished back to the underworld . . . this time forever. She has six months before the Everneath comes to claim her, six months for good-byes she can't find the words for, six months to find redemption, if it exists.
Nikki longs to spend these precious months forgetting the Everneath and trying to reconnect with her boyfriend, Jack, the person most devastated by her disappearance—and the one person she loves more than anything. But there's just one problem: Cole, the smoldering immortal who enticed her to the Everneath in the first place, has followed Nikki home. Cole wants to take over the throne in the underworld and is convinced Nikki is the key to making it happen. And he'll do whatever it takes to bring her back, this time as his queen.
As Nikki's time on the Surface draws to a close and her relationships begin slipping from her grasp, she is forced to make the hardest decision of her life: find a way to cheat fate and remain on the Surface with Jack or return to the Everneath and become Cole's queen.
Everneath
is a captivating story of love, loss, and immortality from debut author Brodi Ashton.
BRODI ASHTON - EVERNEATH 1.5 - NEVERFALL
A thrilling new novella from the author of the Everneath series!
Jack is trapped for eternity in the Tunnels while Nikki has managed to evade Cole's grasp . . . for now. But Cole is more desperate than ever to find answers about Nikki, his best chance for taking over the throne of the underworld. How did she survive the Feed? Can Cole find another Forfeit like her who can survive it too?
Cole's quest leads him to the other side of the world, to a mysterious, dangerous society known as the Delphinians, whose price for information might be higher than Cole can pay—a price that could destroy Nikki. But when Cole attempts to steal the answers instead, his mission ends in disaster. Faced with centuries in a Delphinian dungeon, Cole is confronted with questions he's been too scared to ask himself: Is he really obsessed with the throne—or is he obsessed with Nikki? And can she really give him a new beginning as the Everneath's king . . . or will she instead bring about his tragic end?
BRODI ASHTON - EVERNEATH 2 - EVERBOUND
Nikki Beckett could only watch as her boyfriend, Jack, sacrificed himself to save her, taking her place in the Tunnels of the Everneath for eternity — a debt that should've been hers. She's living a borrowed life, and she doesn't know what to do with the guilt. And every night Jack appears in her dreams, lost and confused and wasting away.
Desperate for answers, Nikki turns to Cole, the immortal bad boy who wants to make her his queen — and the one person least likely to help. But his heart has been touched by everything about Nikki, and he agrees to assist her in the only way he can: by taking her to the Everneath himself.
Nikki and Cole descend into the Everneath, only to discover that their journey will be more difficult than they'd anticipated — and more deadly. But Nikki vows to stop at nothing to save Jack — even if it means making an incredible sacrifice of her own.
In this enthralling sequel to Everneath, Brodi Ashton tests the bonds of destiny and explores the lengths we'll go to for the ones we love.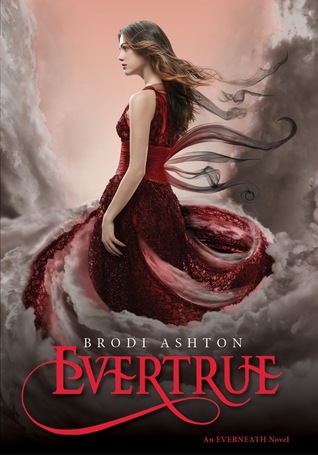 BRODI ASHTON - EVERNEATH 3 - EVERTRUE
Now that Nikki has rescued Jack, all she wants is to be with him and graduate high school. But Cole tricked Nikki into feeding off him, and she's begun the process of turning into an Everliving herself... which means she must feed on a Forfeit soon — or die.
Terrified for her survival, Nikki and Jack begin a desperate attempt to reverse the process using any means possible. Even Cole, who they expected to fight them at every turn, has become an unlikely ally — but how long can it last? Nikki needs to feed on Cole to survive, Cole needs Nikki to gain the throne in the Everneath, Jack needs Nikki because she is everything to him — and together, they must travel back to the Underworld to undo Nikki's fate and make her mortal once more. But Cole isn't the only one with plans for Nikki: the Queen has not forgotten Nikki's treachery, and she wants her destroyed for good. Will Nikki be forced to spend eternity in the Underworld, or does she have what it takes to bring down the Everneath once and for all?
In this stunning conclusion to the Everneath trilogy, Brodi Ashton evokes the resiliency of the human spirit and the indomitable power of true love.