CHLOE NEILL - CHICAGOLAND VAMPIRES 1 - SOME GIRLS BITE
They killed me. They healed me. They changed me.
Sure, the life of a graduate student wasn't exactly glamorous, but I was doing fine until Chicago's vampires announced their existence to the world. When a rogue vampire attacked me, I was lucky he only got a sip. Another bloodsucker scared him off and decided the best way to save my life was to make me the walking undead.
Now I've traded sweating over my thesis for learning to fit in at a Hyde Park mansion full of vamps loyal to Ethan "Lord o' the Manor" Sullivan. Of course, as a tall, green-eyed,
four-hundred-year-old vampire, he has centuries' worth of charm, but unfortunately he expects my gratitude—and servitude. Right…
But someone's out to get me. Is it the rogue vampire who bit me? A vamp from a rival House? An angry mob bearing torches?
My initiation into Chicago's nightlife may be the first skirmish in a war—and there will be blood.
CHLOE NEILL - CHICAGOLAND VAMPIRES 2 - FRIDAY NIGHT BITES
Vamps in Chicago!

You'd think headlines like that would have provoked the fine citizens of the Windy City to take up arms against us bloodsucking fiends. Instead, ten months later, we're enjoying a celebrity status reserved for the Hollywood elite—fending off paparazzi only slightly less dangerous than cross and stake-wielding slayers. Don't get me wrong, Joe Public isn't exactly thrilled to be living side-by-side with the undead, but at least they haven't stormed the castle yet.

But all that will change once they learn about the Raves—mass feeding parties where vampires round up humans like cattle and drink themselves silly. Most civilized vampires frown on this behavior, putting mere mortals at ease with their policy of asking a person's consent before taking a big gulp of the red stuff. However, that doesn't make good copy for a first time reporter looking to impress his high society family.

So now my "master," the centuries old, yet gorgeously well-preserved Ethan Sullivan, wants me to reconnect with my own upper class family and act as liaison between humans and vampires—and keep the more unsavory aspects of our existence out of the media. But someone doesn't want people and vamps to play nicey-nice—someone with an ancient grudge.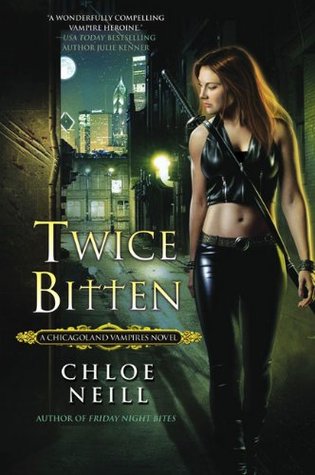 CHLOE NEILL - CHICAGOLAND VAMPIRES 3 - TWICE BITTEN
Merit, Chicago's newest vampire, is learning how to play well with others. Other supernaturals, that is. Shapeshifters from across the country are convening in the Windy City, and as a gesture of peace, Master Vampire Ethan Sullivan has offered their leader a very special bodyguard: Merit. Merit is supposed to protect the Alpha, Gabriel Keene—and to spy for the vamps while she's at it. Oh, and luckily Ethan's offering some steamy, one-on-one combat training sessions to help her prepare for the mission.
Merit must accept the assignment, even though she knows that she'll probably regret it. And she's not wrong. Someone is gunning for Gabriel Keene, and Merit soon finds herself in the line of fire. She'll need all the help she can get to track down the would-be assassin, but everywhere she turns, there are rising tensions between supernaturals—not least between her and a certain green-eyed, centuries old master vampire.
CHLOE NEILL - CHICAGOLAND VAMPIRES 4 - HARD BITTEN
Times are hard for newly minted vampire Merit. Ever since shapeshifters announced their presence to the world, humans have been rallying against supernaturals—and they're camping outside of Cadogan House with protest signs that could turn to pitchforks at any moment. Inside its doors, things between Merit and her Master, green-eyed heartbreaker Ethan Sullivan, are tense. But then the mayor of Chicago calls Merit and Ethan to a clandestine meeting and tells them about a violent vamp attack that has left three women missing. His message is simple: get your House in order. Or else.

Merit needs to get to the bottom of this crime, but it doesn't help that she can't tell who's on her side. So she secretly calls in a favor from someone who's tall, dark, and part of an underground vamp group that may have some deep intel on the attack. Merit soon finds herself in the heady, dark heart of Chicago's supernatural society—a world full of vampires who seem to be ready to fulfill the protesting human's worst fears, and a place where she'll learn that you can't be a vampire without getting a little blood on your hands.
CHLOE NEILL - CHICAGOLAND VAMPIRES 5 - DRINK DEEP
Clouds are brewing over Cadogan House, and recently turned vampire Merit can't tell if this is the darkness before the dawn or the calm before the storm. With the city iself in turmoil over paranormals and the state threatening to pass a paranormal registration act, times haven't been this precarious for vampires since they came out of the closet. If only they could lay low for a bit, and let the mortals calm down.
That's when the waters of Lake Michigan suddenly turn pitch black-and things really start getting ugly.
Chicago's mayor insists it's nothing to worry about, but Merit knows only the darkest magic could have woven a spell powerful enough to change the very fabric of nature. She'll have to turn to friends old and new to find out who's behind this, and stop them before it's too late for vampires and humans alike.
CHLOE NEILL - CHICAGOLAND VAMPIRES 6 -
BITING COLD
In book six of the Chicagoland Vampires series, twenty-eight-year old vampire Merit is on the hunt, tailing a rogue supernatural intent on stealing an ancient artifact that could leash catastrophic evil on the world. But, as she soon discovers, she is also the prey: an enemy of Chicagoland is hunting her, and he'll stop at nothing to get his hands on the artifact.
CHLOE NEILL - CHICAGOLAND VAMPIRES 7 - HOUSE RULES
In a city full of vampires, trouble never sleeps.
At the tender age of twenty-seven, Merit became a sword-wielding vampire. Since then, she's become the protector of her House, watched Chicago nearly burn to the ground, and seen her Master fall and rise. Now she'll see her mettle—and her metal—tested like never before.
It started with two . . . Two rogues vanishing without a trace. Someone is targeting Chicago's vampires, and anyone could be next. With their house in peril, Merit and her Master, the centuries-old Ethan Sullivan, must race to stop the disappearances. But as they untangle a web of secret alliances and ancient evils, they realize their foe is more familiar, and more powerful, than they could have ever imagined.
CHLOE NEILL - CHICAGOLAND VAMPIRES 8 - BITING BAD
Merit has been a vampire for only a short while, but she's already seen a lifetime's worth of trouble. She and her Master, centuries-old Ethan Sullivan, have risked their lives time and again to save the city they love. But not all of Chicago is loving them back.
Anti-vampire riots are erupting all over town, striking vampires where it hurts the most. A splinter group armed with Molotov cocktails and deep-seated hate is intent on clearing the fanged from the Windy City come hell or high water.
Merit and her allies rush to figure out who's behind the attacks, who will be targeted next, and whether there's any way to stop the wanton destruction. The battle for Chicago is just beginning, and Merit is running out of time.
CHLOE NEILL - CHICAGOLAND VAMPIRES 9 - WILD THINGS
Since Merit was turned into a vampire, and the protector of Chicago's Cadogan House, it's been a wild ride. She and Master vampire Ethan Sullivan have helped make Cadogan's vampires the strongest in North America, and forged ties with paranormal folk of all breeds and creeds, living or dead…or both.
But now those alliances are about to be tested. A strange and twisted magic has ripped through the North American Central Pack, and Merit's closest friends are caught in the crosshairs. Gabriel Keene, the Pack Apex, looks to Merit and Ethan for help. But who—or what—could possibly be powerful enough to out-magic a shifter?
Merit is about to go toe to toe, and cold steel to cold heart, to find out
CHLOE NEILL - CHICAGOLAND VAMPIRES 10 - BLOOD GAMES
While Merit didn't choose to become a vampire or Sentinel of Cadogan House, she vowed to fight for her House and its Master, and she's managed to forge strong alliances with powerful supernaturals across Chicago. But even though Merit has had wild adventures, this may be her deadliest yet...
A killer is stalking Chicago, preying on humans and leaving his victims with magical souvenirs. The CPD hasn't been able to track the assailant, and as the body count rises, the city is running out of options. Vampires and humans aren't on great terms, but murder makes for strange bedfellows. Can Merit find the killer before she becomes a target?
CHLOE NEILL - CHICAGOLAND VAMPIRES 11 - DARK DEBT
A vampire never gets old. But neither do his enemies. When a figure from Ethan's dark past makes a splashy debut in Chicago, Merit and her Master don't know whether he's friend or foe. But they'll have to figure out soon, because trouble is brewing in the Windy City.
At an exclusive society soiree attended by the upper echelons of the human and supernatural worlds, Merit and Ethan barely stop the assassination of a guest. When the target turns out to be a shady businessman with a criminal edge, Merit suspects a human vendetta. But the assassins have fangs....
The connections to Chicago's Houses go deeper than Merit knows, and even one wrong move could be her last.
CHLOE NEILL - CHICAGOLAND VAMPIRES 12 - MIDNIGHT MARKED
As the Chicagoland Vampires series continues, Merit and Ethan find themselves in a deadly game of cat-and-mouse, where winning may require the ultimate sacrifice...
A vampire's grudges don't stay dead long...
Merit is one of Chicago's most skilled vampire warriors; these days, she doesn't scare easily. But she and Master vampire Ethan have made a new and powerful enemy, and he won't give up until he owns the Windy City.
With his last plan thwarted, he's more determined than ever to watch Cadogan burn. Ethan has put the House's vampires on high alert, but their enemy will stop at nothing, including pitting vampire against vampire...
In this deadly game of cat-and-mouse, the stakes are life or death—and winning might mean sacrificing everything.
CHLOE NEILL - CHICAGOLAND VAMPIRES 13 - BLADE BOUND
The thrilling final installment of Chloe Neill's New York Timesbestselling urban fantasy series sees a sinister sorcery advancing across Chicago, and it may usher in the fall of Cadogan House…
Since the night of her brutal attack and unwilling transformation to vampire, Merit's stood as Sentinel and protector of Chicago's Cadogan House. She's saved the Windy City from the forces of darkness time and again with her liege and lover, Ethan Sullivan, by her side.
When the House is infiltrated and Merit is attacked by a vampire seemingly under the sway of dark magic, Merit and Ethan realize the danger is closer than they could have ever imagined. As a malign sorcery spreads throughout the city, Merit must go to war against supernatural powers beyond her comprehension. It's her last chance to save everything—and everyone—she loves