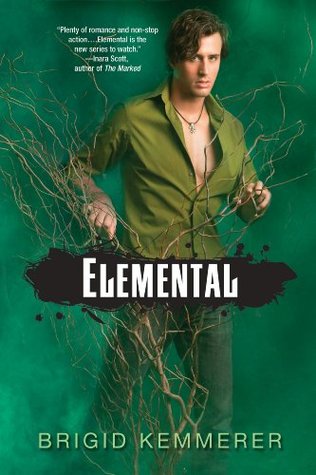 BRIGID KEMMERER - ELEMENTAL 0.5 - ELEMENTAL
Earth, Fire, Air, Water – they are more than you dream.

As an air Elemental, 17-year-old Emily Morgan doesn't have much power. That's okay—she knows what happens to kids who do.

Like Michael Merrick. He's an earth Elemental, one with enough power to level cities. Which makes him sexy. Dangerous. And completely off limits. At least according to Emily's family.

But her summer job puts her in close contact with Michael, and neither of them can help the attraction they feel. When forces of nature like theirs collide, one misstep could get someone killed. Because Emily's family doesn't just want her to stay away from him.

They want him dead.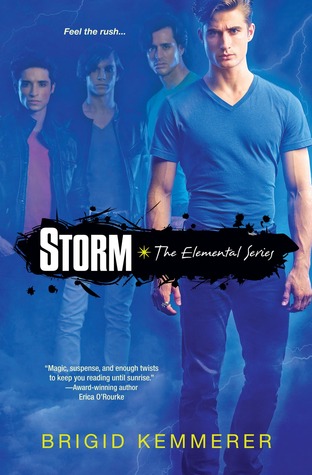 BRIGID KEMMERER - ELEMENTAL 1 - STORM
Earth, Fire, Air, Water – they have more power than you dream.

Ever since her ex-boyfriend spread those lies about her, Becca Chandler is suddenly getting all the guys—all the ones she doesn't want. Then she saves Chris Merrick from a beating in the school parking lot. Chris is different. Way different: he can control water—just like his brothers can control fire, wind, and earth. They're powerful. Dangerous. Marked for death.

And now that she knows the truth, so is Becca.

Secrets are hard to keep when your life's at stake. When Hunter, the mysterious new kid around school, turns up with a talent for being in the wrong place at the right time, Becca thinks she can trust him. But then Hunter goes head-to-head with Chris, and Becca wonders who's hiding the most dangerous truth of all.

The storm is coming
BRIGID KEMMERER - ELEMENTAL 1.5 - FEARLESS
Being a force of nature doesn't keep you safe.

Hunter Garrity is used to watching his back. The kids at school sense something different about him. And they're right.

Hunter has powers that have nothing to do with how hard he can throw a punch.

Maybe that's what Clare Kasten is picking up. She's shy, quiet, and intense, but she's sought him out. There's no telling what she wants from him.

But Hunter knows enough to sense a secret when it's close. And getting close to Clare is a danger he's ready to face.
BRIGID KEMMERER - ELEMENTAL 2 - SPARK
Gabriel Merrick plays with fire. Literally. Sometimes he can even control it. And sometimes he can't. Gabriel has always had his brothers to rely on, especially his twin, Nick. But when an arsonist starts wreaking havoc on their town, all the signs point to Gabriel. Only he's not doing it. And no one seems to believe him. Except a shy sophomore named Layne, a brainiac who dresses in turtlenecks and jeans and keeps him totally off balance. Because Layne has a few secrets of her own
BRIGID KEMMERER - ELEMENTAL 2.5 BREATHLESS
Too many secrets. Not enough time.

Nick Merrick is supposed to be the level-headed one. The peacemaker. Since it's just him and his three hotheaded brothers against the world, that's a survival tactic.
But now he's got problems even his brothers can't help him survive.
His so-called girlfriend, Quinn, is going quick as mercury from daring to crazy. Meanwhile, Quinn's dancer friend Adam is throwing Nick off balance, forcing him to recognize a truth he'd rather shove back into the dark.
He can feel it—the atmosphere is sizzling. Danger is on the way. But whatever happens next, Nick is starting to find out that sometimes nothing you do can keep the peace
BRIGID KEMMERER - ELEMENTAL 3 - SPIRIT
With power comes enemies. Lots of them.

Hunter Garrity just wants to be left alone. He's learned the hard way that his unusual abilities come at a price. And he can't seem to afford any allies.

He's up to his neck in hostiles. His grandfather, spoiling for a fight. The Merrick brothers, who think he ratted them out. Calla, the scheming psycho who wants to use him as bait.

Then there's Kate Sullivan, the new girl at school. She's not hostile. She's bold. Funny. Hot. But she's got an agenda, too.

With supposedly secret powers rippling to the surface everywhere around him, Hunter knows something ugly is about to go down. But finding out what means he'll have to find someone he can trust
BRIGID KEMMERER - ELEMENTAL 4 - SECRET
EARTH. FIRE. AIR. WATER.

Nick Merrick is stretched to breaking point. He's trying to keep his grades sky-high or he won't get in to college. He's trying to keep his brother's business afloat or the Merricks will be out on the street. He's trying to keep the secret of where he's going in the evenings from his twin brother Gabriel - or he fears he'll lose his family. And he's trying to keep his mind off the hot, self-assured dancer who is his 'girlfriend's' partner.

And then Quinn takes to hanging around his sworn enemy, and an Elemental Guide is counting the hours until he can try again to kill the Merrick brothers. Storms are brewing. On all sides.

SECRETS IN THE WIND. DANGER IN THE AIR
BRIGID KEMMERER - ELEMENTAL 5 - SACRIFICE
Earth. Fire. Air. Water.

One misstep and they lose it all. For the last time.

Michael Merrick understands pressure. He's the only parent his three brothers have had for years. His power to control Earth could kill someone if he miscalculates. Now an Elemental Guide has it in for his family, and he's all that stands in the way.

His girlfriend, Hannah, understands pressure too. She's got a child of her own, and a job as a firefighter that could put her life in danger at any moment.

But there are people who have had enough of Michael's defiance, his family's 'bad luck'. Before he knows it, Michael's enemies have turned into the Merricks' enemies, and they're armed for war.

They're not interested in surrender. But Michael isn't the white flag type anyway. Everything is set for the final showdown.

Four elements, one family. Will they hold together, or be torn apart?