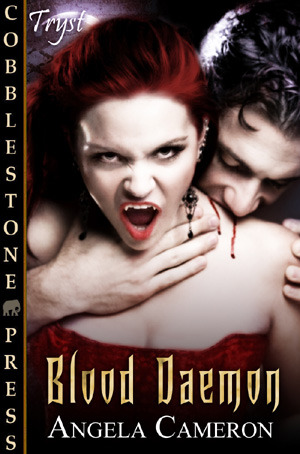 ANGELA CAMERON - BLOOD DAEMON
Local vampire leader, Raven Montgomery, is on the verge of an impossible accomplishment among female vampires, gaining her full power without the aid of a mate. Under pressure from her creator and the threat of death, she is forced to entertain the attentions of Astor, the French suitor chosen for her.
As blood daemon, Jareth is the hired help. As her bodyguard, he must follow her through this journey of lovers and hide his true feelings for the woman he's always protected.
Can Raven accept her fate as someone's trophy wife? Or will Jareth's jealousy be too much for them both?
ANGELA CAMERON - NOCTURNE
Newspaper reporter Alyson Wingate's life is comfortable. Safe. She likes it that way. She supresses the "talents" she's inherited, and ignores the precognitive dreams she shares with the other Wingate women. She likes having a normal life. Even the late night work and cheating ex feel right. Then she finds a corpse on the road with its throat torn out. When she begins to investigate the death, she finds herself running for her life in the middle of a werewolf-vampire turf war. And the only place to run is to Wil, her ex, if she wants to stay alive. Aly's a fighter. She fought to be normal. She fought to be safe. Now she's fighting for her life. Maybe she'll win this one, but the odds are against her...again.